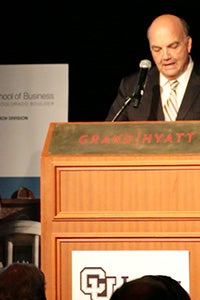 This week, Colorado University's Dr. Richard Wobbekind presented the 2015 Colorado Business Economic Outlook. The Colorado Business Economic Outlook is the longest-running sector-level forecast of the Colorado economy. The forecast analyzes the changes in industry sectors during the past year and looks at the events and activities that will shape changes in population and employment, and in the overall economy for the upcoming year.
"Not only is the state's economy solidly in positive territory, but it is ranking in the top five nationally for population growth, employment growth, wage and salary growth and personal income growth,"  says Wobbekind.
Colorado can expect to add 61,300 jobs in 2015. In-migration continues to boost the state's population, while unemployment is falling. The report covers a wide variety, including Agriculture, Natural Resources and Mining, Construction, Manufacturing, Trade, Transportation, and Utilities, Information, Financial Activities, Professional and Business Services, Education and Health Services, Leisure and Hospitality, Government, and International Trade.
"With a skilled workforce, a high-tech, diversified economy, relatively low cost of doing business, global economic access and exceptional quality of life, Colorado is poised for both short- and long-term economic growth," Wobbekind said.
Check out the full report below or by clicking here.